At Least Addison Reed Will Be Rested
The problem with pitchers' duels in the modern game is that eventually end due to pitch count and managerial decision. We'll never again see Juan Marichal and Warren Spahn dueling for 16 innings. Instead, we eventually get a battle of the bullpens.
That battle makes both Mets fans and Nationals fans uneasy because both teams have terrible bullpens.
Steven Matz and Stephen Strasburg were both terrific matching zeros through seven innings. Matz allowed for hits while walking two while striking out four. Strasburg gave up two hits while walking three and striking out six.
The relievers that followed were nowhere near as good. Accordingly, Dusty Baker and Terry Collins were mixing and matching and failing.
The Mets got the first crack at the bullpen in the eighth, and they are going to want this inning back.
After a lead-off single off Nationals reliever Matt Grace, Matz stayed in the game for the sole purpose of bunting Brandon Nimmo to second. Jose Reyes, who was batting lead-off for some inexplicable reason, singled to left. Despite Nimmo initially stumbling and Brian Goodwin charging in hard on the ball, Glenn Shetlock sent Nimmo anyway:
#Mets challenge call that Brandon Nimmo is out at home in the 8th; call confirmed, runner is out. https://t.co/19ebBm4jyS

— MLB Replay (@MLBReplays) July 4, 2017
Nimmo was out by a pretty good margin. Maybe a better slide, and Nimmo is safe. Possibly, Asdrubal Cabrera being in position to direct Nimmo could've made a difference. A different replay official, and the call reasonably could've been overturned. Instead, the call stood.
The send was bad on so many levels. Most importantly, there was only one out, and the middle of the lineup was coming up against a terrible Nationals bullpen.
Cabrera would walk, and the Mets would send Yoenis Cespedes to the plate. He would come up short in a big spot. It wouldn't be the last time.
The Nationals wouldn't waste their chance.
With the pitcher's spot due up and the top of the Nationals line-up due up, Collins went to Jerry Blevins, and he kept him in with all the right-handed hitters the Nationals brought to the plate. It was a bad strategy:
Not sure, but maybe Terry shouldn't have used Blevins against all those RHB pic.twitter.com/KOKziiQr1j

— Mets Daddy (@MetsDaddy2013) July 4, 2017
Ryan Raburn hit a pinch hit single, and Michael Taylor followed with a two run homer giving the Nationals a 2-0 lead.
But the game wasn't over because the Nationals bullpen is terrible too.
Sammy Solis allowed a one out single to T.J. Rivera, and he got a gift strike call on Lucas Duda: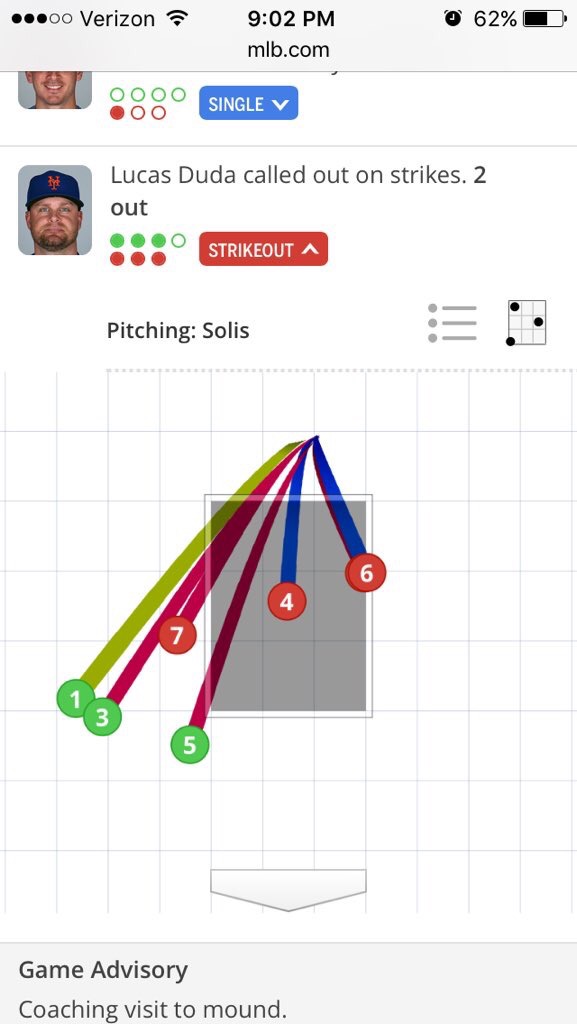 Baker brought in Matt Albers, and Collins countered by pinch hitting Curtis Granderson for Travis d'Arnaud. The Nationals were one strike away from winning, and Granderson tied the game:
Down to his last strike, Curtis Granderson connects on a two-run home run to right-center field, tying the game in the 9th for the Mets!!! pic.twitter.com/ldYQCvFBwK

— TheRenderMLB (@TheRenderMLB) July 4, 2017
This is when critical decisions are made. Addison Reed was warming up, but with the game tied, Collins wasn't going to bring in his closer on the road unless it was a save situation. This was the Buck Showalter–Zach Britton decision all over again, and Collins showed he learned nothing.
He initially stuck with Paul Sewald, who bailed the Mets out if the eighth.
Sewald walked Matt Wieters to start the inning, but he struck Wilmer Difo out, who was trying to get the bunt down. At that point, the Mets had a sinker baller on the mound and needed a double play to get out of the inning.
Collins would've stick with Sewald, nor would he go to Reed in the spot. Instead, he went to Josh Edgin when Stephen Drew was announced as a pinch hitter. Edgin walked Drew pushing the winning run into scoring position. Adam Lind flied out setting up first and second with two outs, and Ryan Raburn coming to the plate.
Still, Collins would not go to Reed. No, he went to Fernando Salas and his 6.31 ERA. Raburn hit a ball to left field that dropped in front of a sliding Yoenis Cespedes. To add insult to injury, Cespedes pulled up lame on the play, and he won't be playing tomorrow.
Bad managing and a bad bullpen led to a loss. It's been all too redundant this year.
Game Notes: Daniel Murphy grounded out in a pinch hitting appearance in the eighth marking the first time in 30 games against the Mets he did not reach base.