What Taylor Swift Is Missing Out On
On July 2nd, my family was able to attend a Brooklyn Cyclones game courtesy of Nicco Blank.  With him getting called-up, he was able to leave us tickets to attend a Cyclones game while he left seats for Taylor Swift for the Columbia Fireflies game.  Overall, it was a great experience, and my family is grateful that Blank was able to arrange for my family to get tickets to the game.
For those that have never attended a Cyclones game, MCU Park is located at the end of the Coney Island boardwalk.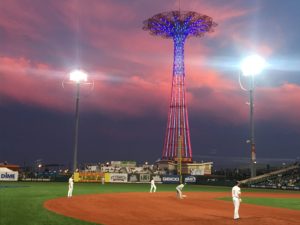 The Original Nathan's Famous is within walking distance if you want to get a pre-game meal, and you very well might as there is no outside food allowed in the boardwalk.  Security does check.  Also, it should be noted that most of the concessions located within the ballpark is cash only.  It should also be noted that MCU Park charges major league prices at their concession stands.  Once you have had your pregame meal, it is time to head over to the ballpark.
Right outside MCU Park is a statute of the moment where Pee Wee Reese put his arm around Jackie Robinson.
It is quite fitting this statue is in Brooklyn as this is the city in which Robinson broke baseball's color barrier.  The particular moment, whether or not it actually happened, is quite fitting as it symbolizes not just Robinson being accepted by his teammates, but also by all of baseball.  This area is a good meeting spot and place to sit in the relative shade until the balllpark opens.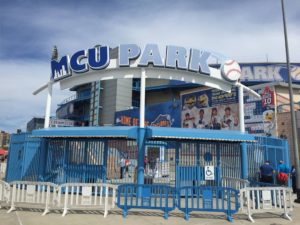 Similar to Citi Field, the ballpark opens an hour and a half before first pitch.  Season ticket holders are given priority entrance, and once they are squared away, they will open the gates for general admission. Typicall, the promotion or theme night for that date will dictate whether or not there is much of a line outside the stadium.  As we attended Seinfeld Night II, there was quite a line to get into the ballpark:
Other than these giveaways, the Cyclones hand-out programs to everyone that attends the game.  For fans like me that like to keep score and buy the programs at games anyway, this is great.  If you don't have anything on hand and you want to get autographs, this works out great as the players can autograph either the cover or the inside where their player profiles are located.  Finally, if you got to the game early and need to keep your toddler entertained, you can give it to him with the $4.00 pen he had to have from the gift shop to keep him entertained before first pitch: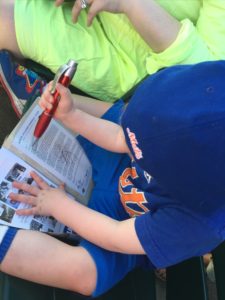 Tickets to the ballpark range from $12.00 – $19.00, which would similar to the cost of Promenade seating at Citi Field.  However, due to the fact that this is a minor league ballpark and there is only 7,000 seats, your seats are going to be much better than the seats you would get at Citi Field.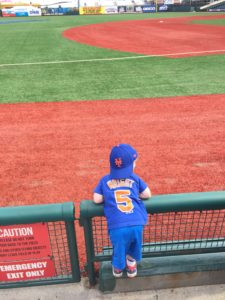 Fortunately, we were able to sit very close due to the generosity of Nicco Blank.
One of the benefits of being so close and being at a minor league park is you are close enough to get autographs seemingly no matter where you are sitting.  Most, if not all of the players, are ready, willing and able to provide autographs.  My son was quite fortunate as many Cyclones players, including Colby Woodmansee, Darryl Knight, Harol Gonzalez, Blake Tiberi, and others, signed my son's Cyclones pennant.  In particular, Knight stood out in his efforts to sign autographs for everyone despite the fact that his left arms was in a sling.  Personally, I was hoping to snag an Edgardo Alfonzo autograph, but that was not in the cards for the day.
Another benefit is that since you are sitting close no matter where you sit, the chances are very likely that you are going to catch a foul ball.   The one I caught was courtesy of Blake Tiberi: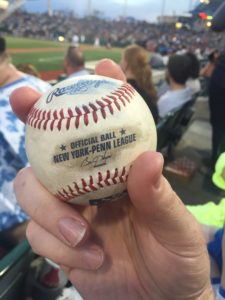 I should mention that my son took all the credit for catching the ball (and yes, we did have the quick panic moment of him thinking about throwing the ball back onto the field):
I will say that it was nerve wracking at times being that close to the field with a two year old.  While my son is good and will sit to watch a game, his attention span does wander at times because he wants to see what's happening as all two year olds do.  Considering how fast the foul balls were coming in, I did take some time to go around the ballpark to see if there were other things for my son to do.
Right outside the left field stands was a pitching game.  For just $2, you were given three balls.  If you were able to hit the catcher's mitt, you were given a Cyclones hat:
Considering, I spent $4.00 on a pen, the $2 hat was a welcome surprise.
In addition to the Cyclones game and the pitching game, the other main attraction for the fans is Sandy the Seagull, who my son was just dying to meet: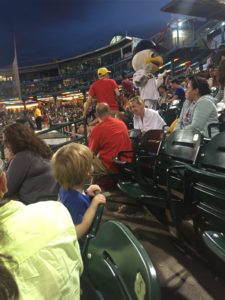 Eventually, as the game ended Sandy made his way down to where we were sitting much to the excitement of my son: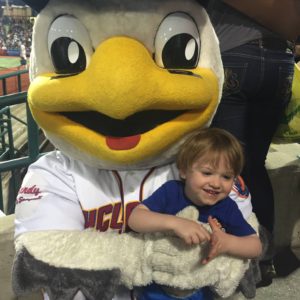 Honestly, I'm not sure if this, winning the hat, or catching the foul ball was the highlight of the night for my son.  But that's the thing about attending a Cyclones game with your children – it's a fun experience.  Everyone, Taylor Swift included, should go out and see a Cyclones game to enjoy a great night at the ballpark.  We enjoyed every minute of it, and we thankful to the Cyclones for creating such a family friendly atmosphere and to Nicco Blank for giving us the tickets.