Mets Bats Bring the Thunder
Mother Nature provided the rain, but it was the Mets bats that provided the thunder. The Mets hit five home runs within the first five innings going ahead 10-1.
It started in the second inning with James Loney and Asdrubal Cabrera going back-to-back off Cubs starter Jason Hammel. Cabrera would hit another homer off Hamel in the fifth. That would be the second homer in the inning. The first was a Yoenis Cespedes laser shot. Cespedes needed to hit that homer as Brandon Nimmo hit a home run in the fourth inning that was one foot farther than Cespedes' shot yesterday:
.@You_Found_Nimmo will remember this one forever. His 1st career homer was crushed into the bullpen. #Mets #LGM pic.twitter.com/PXtfed68Bv

— New York Mets (@Mets) July 2, 2016
It was Nimmo's first career home run and curtain call. He followed it up by making a nice defensive play in the fifth: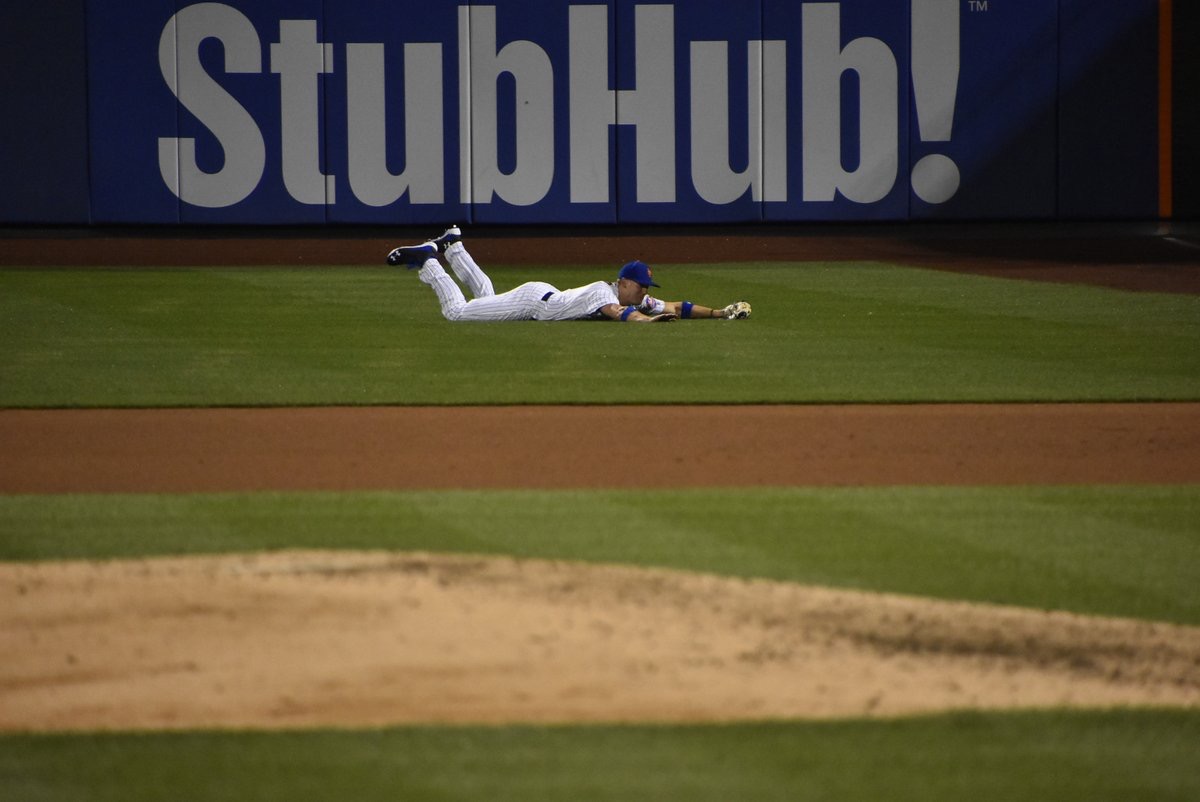 It was a terrific night for Nimmo and the Mets.
By the way, since I do point this out when it happens

Brandon Nimmo: 410th player in Mets history to hit a HR, has as many as Bartolo Colón

— Mark Simon (@msimonespn) July 2, 2016
The beneficiary of all these runs was Jacob deGrom. It was about time the Mets scored some runs for him too. The Mets had not given him more than two runs of support since May 27th. He's had the fourth worst run support in the majors this year with the Mets scoring 2.89 runs per game for him (Matt Harvey has the second least with 2.79).
deGrom would finally get his first win since April 30th. His ability to get this win was in doubt as there was a rain delay for over an hour before the third inning. Terry Collins sent him out there anyway, and deGrom lasted five innings allowing three hits, one earned, and one walk with seven strikeouts. The lone run he allowed was a solo home run off the bat of Kris Bryant. It's possible deGrom could've gone more than five as he was only up to 85 pitches. However, once there was another rain delay in the sixth, the third one of the game, deGrom was done for the night.
Needless to say, deGrom pitched much better out of the delay than Hammel did. The Mets pummeled Hammel in this 10-2 win like they did in Game 4 of the NLCS.
Game Notes: Loney was 3-4 with two runs, three RBI, a double, and a homer. He was a triple short of a cycle. He actually hit one this year. It was a June 18th game against the Braves. Seth Lugo made his major league debut in the eighth inning wearing number 67. He became the first Met to ever wear that number. Lugo got it up to 97 MPH showing real promise out of the pen. He pitched two scoreless innings allowing two singles, a HBP, and striking out a batter. He also had his first balk falling off the mound before delivering a pitch.
David Wright attended his second straight game. For safety reasons, he watched the game from the bullpen.