Harvey Reemerges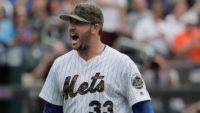 Three years ago, Matt Harvey's May start against the Chicago White Sox was a statement that Harvey was already one of the best pitchers in the game.
Harvey was ever so close to a perfect game. If not for an Alex Rios infield single in the seventh inning, Harvey would've made history. Instead, Harvey had to be satisfied with pitching an absolute gem. He pitched nine innings allowing only the one hit while striking out 12. His stuff was absolutely electric. At least on that day, there was no better pitcher in baseball.
That hasn't been Harvey's story in 2016. This year it's been about struggles. He struggles with his mechanics. He struggles with the fourth inning on. He struggles with the ever increasing scrutiny that class come with his struggles. His scheduled start against the White Sox was a reminder of how Harvey has gone from an unquestioned ace to a struggling pitcher. We have all been left to figure out what happened. That includes Harvey, who said, "I've been wondering the same thing." (ESPN)
On Monday, the struggles seemingly disappeared. His fastball was blazing occasionally touching 98 MPH. His fastball averaged over 95 MPH. For the first time all year, he pitched into the seventh inning. In the seventh, there were runners on second and third with one out, and Harvey got out of a jam unscathed. He only allowed two hits and one walk while striking out six. Seemingly, the Harvey of old was back.
When you go out and prove you've still got it: https://t.co/kPLrCSb36f pic.twitter.com/FrXqYctOcO

— MLB (@MLB) May 30, 2016
The Mets need that Harvey. That was the Harvey that gave them hope in 2013. That was the Harvey that took the ball in Game 5 of the World Series and ALMOST willed the Mets to victory. Even with the emergence of Steven Matz and Noah Syndergaard taking the next step, the Mets still need Harvey. Fortunately, the questions about Harvey have shifted from "What's wrong?" to "Is he back?"
According to Terry Collins, "it's a big first step." Collins went on to say, "[Harvey] feels good about the way it went. He feels good about the way he threw the ball. Now, we've just got to build on it, and stay as positive as we can and have him repeat it. No matter what the results are, if he repeats this kind of performance with stuff, I think we're on the right track."
That makes Harvey's start the most important start of the season. Harvey must build off this start. If it was a mechanical adjustment, he needs to hone his mechanics. If it was a mental issue, Harvey has to get back to that mindset. Whatever it is, Harvey needs to get back to that point and stay there.
Harvey put it best when he said, "This really doesn't mean anything unless I continue it."