Young Players Lead the Way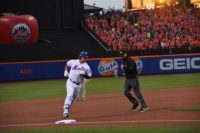 There was a time the Mets relying on the young meant hoping Chris Young's shoulder wouldn't fall apart, or the other Chris Young hitting above the Mendoza Line. The 2016 version is much better.
Tonight, the Mets were carried by two 23 year old superstars – Noah Syndergaard and Michael Conforto.
Syndergaard was throwing so hard he broke the radar guns in Citi Field. With that said, he wasn't dominating. Of the seven innings he pitched, he had only two 1-2-3 innings.
However, just because he wasn't dominating doesn't mean he wasn't intimidating. In Billy Hamilton laid down a bunt single in the third inning. He then stole two bases leading to the Reds' only run of the game. Hamilton's next at bat? Syndergaard buzzed him inside reminding Hamilton he's 60'6″ away.
Still Syndergaard had some problems. In the sixth, the Reds had runners on second and third with one out. Syndergaard would then strike out Devin Mesoraco and Adam Duvall to get out of the jam. He got them both with sliders.
Speaking of the slider, Syndergaard went to that well too often. After he passed 100 pitches, and the Reds were going to the fourth time through the lineup, they were able to get a two out rally started.
Zack Cozart would chase Syndergaard in the seventh with an RBI single before Antonio Bastardo came in and showed signs of over use. He walked the first batter he faced before allowing a game-tying single to Joey Votto. Logan Verrett came on in relief and got the Mets out of the jam leaving the score tied 3-3.
Syndergaard's final line was 6.2 innings, seven hits, three earned, no walks, and nine strikeouts.
The Mets would retake the lead on yet another Neil Walker homerun:
.@NeilWalker18 has tied a career best with seven home runs a calendar month. #MetsFacts pic.twitter.com/vim606h1fA

— New York Mets (@Mets) April 25, 2016
#MetsWIN! 5-3 #Mets @NeilWalker18 crushes a 2-run home run in the bottom of the 7th to seal this one. #LoveTheMetshttps://t.co/F9od6tTnSG

— New York Mets (@Mets) April 26, 2016
For his part, Conforto couldn't make an out. In the first inning, he hit a homer. He followed that with a single in the third. He got a shift double in the fifth. He hit a bloop by the left field line. Suarez got under it, but he still couldn't make the play. It bounced into the stands for a ground rule double. He walked in the seventh. The cycle was not to be. He's been amazing since he was called-up, and he's been better since he started hitting third:
Since moving to the three spot, Conforto is 12-for-35, with eight runs, four doubles, three homers and eight RBIs in 10 games. OK, I guess.

— Laura Albanese (@AlbaneseLaura) April 25, 2016
By the way, Lucas Duda hit another homerun:
#DudaSmash! Watch Lucas Duda's monster 2-run home run >> https://t.co/tFM2CptR4G pic.twitter.com/gyv7lZZTQE

— New York Mets (@Mets) April 26, 2016
In what was a good night overall, there was some cause for concern. Travis d'Arnaud continues to struggle behind the plate. While Syndergaard doesn't hold runners on well, d'Arnaud's throws were terrible. He was palming the ball. He was winding up too much. He seemed to be thinking more than reacting. Overall, the Reds were 5-5 in stolen base attempts.
Addison Reed and Jeurys Familia closed out the win.
The game was tougher than it should have been, but it's still a win. It extended the Mets winning streak to four games. The streak should continue as the Mets are pulling it all together and are beating bad teams like they should.