Thor, Wright, and Duda Had a Whale of a Game
So far this season, two of the positive story lines, even when the team was really struggling was David Wright playing like the David Wright of old, and the continued development of Noah Syndergaard. Both were on display tonight.
Just like when Wright first came off the DL last year, he homered tonight in his first at bat in Citizen's Bank Ballpark:
#DavidWright delivered an oppo 🌮 in the first inning. #Metshttps://t.co/HIgn4DcI9E

— New York Mets (@Mets) April 18, 2016
He also made a nice bare-handed play in the field:
A little variation on vintage David Wright: https://t.co/Y2uGh85KEZ‌https://t.co/Nx1yXyAIdS

— MLB (@MLB) April 19, 2016
The Mets needed Wright because once again runs were hard to come by against a Phillies starter. The Phillies young starters are very underrated. Tonight, it was Jerad Eickhoff. Once again, he showed a filthy 12-6 curveball. He would pitch seven innings allowing five hits, two earned, three walks, and nine strikeouts. He lowered his ERA to 1.89.
In the sixth, the Mets broke a 1-1 tie with a two out rally. Yoenis Cespedes would hit a triple, and he would score on a Lucas Duda RBI single. With Duda is struggling this year, he is hitting 4-10 with RISP. It was not the last time we would hear from Duda. For his part, Cespedes showed no ill effects from the bruised leg in the field on the basepaths.
The real mystery from tonight was how in the world the Phillies scored the one run. Syndergaard was throwing fastballs that appeared to be 101.9 MPH. His fastball was hovering around 100 MPH all night. His slider was hovering around 95 MPH all night. His change was around 90, and his curveball, or Thor's hammer, was around 85 MPH. His stuff was once again practically unhittable.
Overall, Syndergaard pitched seven innings allowing five hits, one earned, two walks, and eight strikeouts. This actually raised his ERA to 0.90.
Once Eickhoff left the game, the Mets began to tee off against a terrible Phillies bullpen. In the eighth, Duda hit a laser to right field for his first homerun of the season.
Neil Walker would go back-to-back with an opposite field homerun to left. It was his fourth of the year. In the ninth, Wright would hit his second homerun of the game. Both were opposite field shots. They turned a tight 2-1 pitcher's duel into a comfortable 5-1 win.
Antonio Bastardo pitched a scoreless eighth. Jeurys Familia came into a non-save situation. On the one hand, it could've been your typical closer struggling in a non-save situation. It also could've part of what has been, at least for him, a tough start to the season. Familia let up a single and double before settling down. He got the next three out, but not before allowing a run to score on a fielder's choice. Fortunately, Familia finally shut the door before allowing a run preserving the 5-2 win.
The Mets are back to .500, and with a soft part of their schedule this week, the Mets look to be ready to take off.
Game Notes: The Mets hitters continue to strike out a lot. Tonight, they struck out 11 times. Mets have hit 23 homeruns in their last 11 games at Citizen's Bank. Travis d'Arnaud missed the game with the bruised elbow. In the eighth, Juan Lagares was double switched into the game forcing Michael Conforto to the bench. The Mets allowed three stolen bases including two when Syndergaard was on the mound. It's the one thing he doesn't do well. In the fourth, when Duda popped out, a whale appeared on the screen: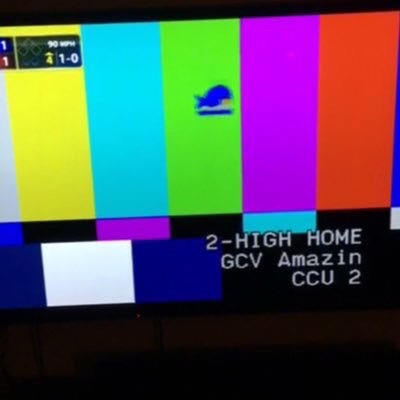 I guess the parakeet's and the raccoon's days are numbered.