Let Cespedes Be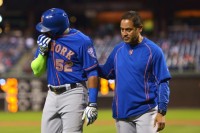 There are real and legitimate reasons for the Mets not re-signing Yoenis Cespedes. Advanced stats like UZR and DRS suggest he's a poor defensive centerfielder. Despite his hot streak with the Mets, he still only has a career .319 OBP. Also, you can knock the Mets finances all you want, but is a 30 year old outfielder worth a long term deal? Those deals typically end badly.
Well with Cespedes still unsigned, and the fans still clamoring for him, the Mets decided to offer some more reasons. As John Harper reported in his New York Daily News article, the Mets had other issues with Cespedes, which included:
He marches to his own drumbeat;
He refuses to take batting practice;
He doesn't hustle;
He smokes during games; and
He will be a headache if he receives a long-term deal.
I'm not going to say any of these reasons are incorrect. I've never seen Cespedes take batting practice. We saw him miss player introductions at Citi Field during the World Series. I've yet to see him go to first base when he struck out on a ball in the dirt. He was lacksadasical running down a routine flyball leading to the infamous inside-the-park homerun to open the World Series. Better yet, he didn't even run after the ball once it got by him. So yes, I believe the Mets on all of these fronts.
However, why are you telling this to us now? I never heard of the batting practice issue in August. Apparently, there was no issue with smoking in September. Why are the Mets smearing Cespedes now?
If it's to change the public opinions of Mets fans on him, it's misguided. If it's to distract about how the Mets aren't spending, it's not working. If it's to drive down his market to put him within their range, it's not happening. So again, what did leaking all this information to the New York Daily News accomplish?
To me, all it accomplished was making the Mets seem small and petty. This guy was a good player for your team for three months. He was a fan favorite. He was a thrill a minute. For all of that, the Mets just spat in his face and kicked him out the back door. They did it even when everyone knew the Mets had zero intention of re-signing him. At the end of the day, there was no need for it.
Cespedes deserved to be treated better.
Editor's Note: a version of this article also ran on metsmezmerizedonline.com