Who Will Be the 2016 Centerfielder?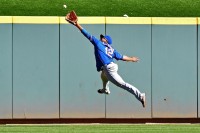 There's no nice way to put it. Juan Lagares did not have a good 2015. He took a step back offensively and defensively. He basically forced the Mets to go out and get Yoenis Cespedes and play him out of position.
The Mets made it work in July and August. However, when you play with fire you eventually get burned, and the Mets got burned in the World Series. It showed the need to have an actual centerfielder in centerfield. On the flip side, Lagares started to play much better in the postseason, even if he wasn't all the way back defensively.
The Mets now have two options. They can go with Lagares or they can go out and sign someone. The argument for Lagares is:
He was injured and may be better with an offseason to heal;
Even in a down year, he was an above average defensive centerfielder; and
He will have more time to work with Kevin Long to get better at the plate.
The argument against Lagares was he regressed in every way possible. He had real platoon splits, and if you can't hit righties, you can't play everyday in the majors. Also, this is a championship contending team. You need to be ready to compete day one, especially when you've lost your two biggest trade chips on rental players.
The cheapest option, and possibly the best, is to carry Kirk Nieuwenhuis as your 4th outfielder. After an abysmal 2015, he will be cheap. He's also an every other year player:
2012 – .252/.315/.376
2013 – .189/.278/.337
2014 – .259/.346/.482
2015 – .195/.270/.375
Sometimes things don't make sense. That goes doubly for every other year players, but it seems to be a thing. If it continues, Nieuwenhuis is primed to be better in 2016, which would be good news.
For all his faults, Nieuwenhuis is a useful player. He can play all three OF positions. He's got some pop in his bat and some speed. Looking over his UZR, he grades out as average at all three positions (making him a much better CF than Cespedes). That's important because very few big league teams carry a legitimate CF on the bench.
It's important because if Lagares can't hit righties again, the Mets need to figure something out quickly. We saw the platoon work in 2015, and it should in 2016:
Lagares vs. Lefties – .279/.325/.427
Nieuwenhuis vs. Righties – .245/.314/.423
The numbers aren't tremendous, but keep in mind this comes with good to great defense. It also comes with a presumably improving Lagares and the good year Nieuwenhuis. Also, this is going to presumably come from the 7th or 8th spot in the lineup.
If the Mets don't like these numbers, they have a baseline for external options. Right now, here are the free agent centerfielders:
Looking over the list, the only players that could be an improvement are Fowler, Jackson, or Span. I'll address them in reverse order.
Span is the best offensive player of the group and could leadoff. He is projected to receive a three year $36 million offer. It's 50/50 if he'll receive a qualifying offer. However, in a large outfield, it is not wise to go with a centerfielder with poor range. He's a definite no if he gets a qualifying offer. You do not want the Nationals getting your first round pick.
Jackson is the best defensive player. He is projected to receive a three year $30 million contract, but he probably won't receive a qualifying offer. However, isn't he essentially an older, more expensive Lagares? I'm not sure this is the way to go.
That leaves Fowler. The benefit of Fowler is he's a switch hitting leadoff hitter. He's in the middle of his prime. He just played well for a playoff team, even if he did not have a good postseason. He will receive a qualifying offer, and he's projected to get a 4 year $56 million contract.
There's no doubt in my mind Fowler would improve this team. Realistically, the Mets should be able to get him and re-sign Daniel Murphy, who is projected to receive 4 year $48 million contract. To put it in perspective, Fowler and Murphy are worth a combined $26 million a year or just $4 million more than what Cespedes is slated to receive. If the Mets have money, this is the way to go.
However, my Fowler/Murphy choice presumes they can sign them and give arbitration raises to everyone. If Fowler or Murphy prevents you from signing one pitcher, you go with Lagares. I'd be comfortable going that way.
Ultimately, centerfield is one of the positions the Mets can improve easily in 2016. If the Mets can't bring in Fowler, they'll need it to come from Lagares.