After this season and a World Series, my head is swimming. On the one hand, I want to call the season a success. On the other hand, I want to scream and yell because they blew the World Series.
With that said, to a man, this was a classy team. I'll remember Daniel Murphy deflecting credit during his amazing run. I'll also remember when he made the error in Game 4, he stood there prominently to answer questions about his play. I'll remember how he accepted full blame.
I'll remember what a great man Terry Collins is. I'll remember how he reached out and offered condolences to hurting Mets fans who lost a loved one. I'll remember him congratulating the Royals after that painful loss:
I'll also remember how the entire team honored a fallen NYPD officer during the World Series: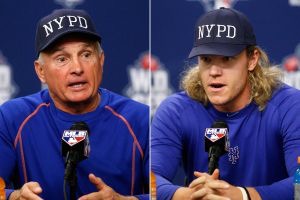 I'll also remember how this team acknowledged the fans in the good times . . .

. . . and bad:
Well done, David Wright. He instructed his entire team to come back on the field and salute the @Mets fans who stuck around until the end.

— Baseball Tonight (@BBTN) November 2, 2015
The @Mets are out on the field, saluting their fans after an incredible season. #WorldSeries pic.twitter.com/B1u9wip4TP

— FOX Sports: MLB (@MLBONFOX) November 2, 2015
Thanks for an Amazin' season Mets fans. You guys are the best! #LGM pic.twitter.com/MQ0OiyxMF0

— New York Mets (@Mets) November 2, 2015
Look, there's a lot of things that have to be said about this World Series, and trust me, I've got a lot ready to go. However, before talking about anything, I thought the team should be recognized for how classy they handled themselves all year.