Mets Owe Johan a Shot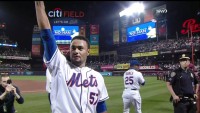 Despite last pitching for the Mets in 2012, Johan Santana is still trying to make a comeback. God bless him.
Santana missed the entire 2011 season after shoulder surgery on his left arm to repair a torn anterior capsule. He came back in 2012, and he pitched well. Then on one magic night, This happened:
It's a night that still haunts Terry Collins. He let a pitcher coming back from shoulder surgery throw 134 pitches. Collins was noticeably upset in his post game press conference. He feared what ended up happening. Santana's career effectively ended that day.
Santana would have a re-tear in the capsule requiring further surgery. He would miss the entire 2013 season, his last with the Mets. He tore his Achilles' tendon while rehabbing the shoulder surgery costing him the 2014 season. Last year, he had a toe infection which prevented his latest comeback. He now wants another chance.
The Mets can afford to give it to him. They are looking for lefties in the bullpen. All Santana will require is a minor league deal for the minimum with an invitation to Spring Training. Worst case scenario is he doesn't have it, and you cut him. No harm, no foul. But if there is something, anything there, you could have a good reliever. A reliever who can handle New York, and who can be a mentor to the entire pitching staff.
The other reason to give it to him is the Mets owe him. It sounds funny because the Mets paid him $137.5 million. However, they pushed him to the limit in 2008 trying to make the playoffs. They pushed him past the limit to get the elusive no-hitter. We don't know if these events lead to the shoulder surgeries. What we do know is Johan gave the Mets all he had.
With Johan giving the Mets all he could, the Mets should at least offer him the least they could. If he doesn't have it, it's better coming from a friend that respects him and can thank him for his play with the Mets. If he does have it, Johan can go out on his own, and the Mets can strengthen their team.
The Mets should bring back Johan.