Mets No Longer Need Colon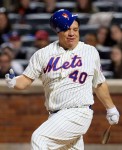 I'll be completely honest with you. I've never understood the Mets fans love of Bartolo Colon. As a Met, he was 29-26 with a 4.13 ERA, and a 1.232 WHIP. His signature moments were he cartoonish at bats. There was a terrific defensive play, but where was the signature pitching performance?
The performances I remember are his two extra inning World Series performances. He got the loss in Game One. He allowed a big hit to put the clinching Game 5 out of reach. I really harbor no ill will towards Colon for these games. Personally, I think he was put in a position to fail both times. Additionally, to blame him is to fail to acknowledge what he was.
Colon is nothing more than a fifth starter, a durable one at that. He took the ball every fifth day. Sometimes he was effective, other times he wasn't. However, his time has passed as it normally does for 42 year old players. It's time for Steven Matz and Zack Wheeler.
He wants to pitch next year. He probably wants to catch and surpass Pedro Martinez fir most wins by a Dominican born pitcher. He's just one away from tying. If he starts, he'll have his best chance to do it. Also, he's a starter, not a bullpen arm. There will be a team that wants him to start. Let him go there. He no longer has a place with the Mets.
He did a good job with the Mets. He'll deserve the applause he will receive when he returns to Citi Field, although I suspect he will get much more than that. I may not understand all the fanfare he receives, but I do understand he did his job well with the Mets.
Good luck at your next stop Colon.