I Hope Murphy Signs Quickly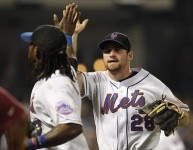 Earlier, I had a case as to why I believed the Mets should try to re-sign Daniel Murphy. I think the Mets should bring him back. However, there are valid reasons why you don't bring him back.
He's not a good defensive second baseman, and that's the only place to play him right now and in the near future. He's prone to a base running gaffe or two. Re-signing him will be very expensive insurance option for David Wright, especially when you already have Wilmer Flores. You don't want to create a log jam on the roster and in the infield for when Dilson Herrera is ready to play everyday in the majors.
Whatever the decision, I hope the process happens quickly. The longer it goes on, the more awkward it becomes for everyone. As a result, more questions get asked about why the Mets arent interested, or what's wrong with Murphy that team's aren't interested? It's better that the process happens quickly. The overall goal is to avoid the he said – she said that followed after Jose Reyes signed with the Marlins. The Mets were good to Murphy, and in return, Murphy was good to the Mets. There's no need for anyone to look bad here.
As a parting gift, the Mets should get a first round compensation pick, and Murphy should get a huge contract.