I Went to a World Series Game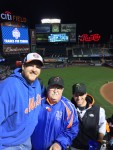 There are many things I'm going to personally take away from the 2015 season. For a moment, I wanted to acknowledge that I went to a World Series game with my Dad and brother. It was a dream come true.
I've been going to Mets games with my Dad since 1983 when Darryl Strawberry. I wasn't much older than my son is now. I've been going to Mets games with my brother not too long after that. We thought the moment was coming in 2006. We hoped it would happen in 2007 and 2008. It was getting to the point I would never be there to see this in person: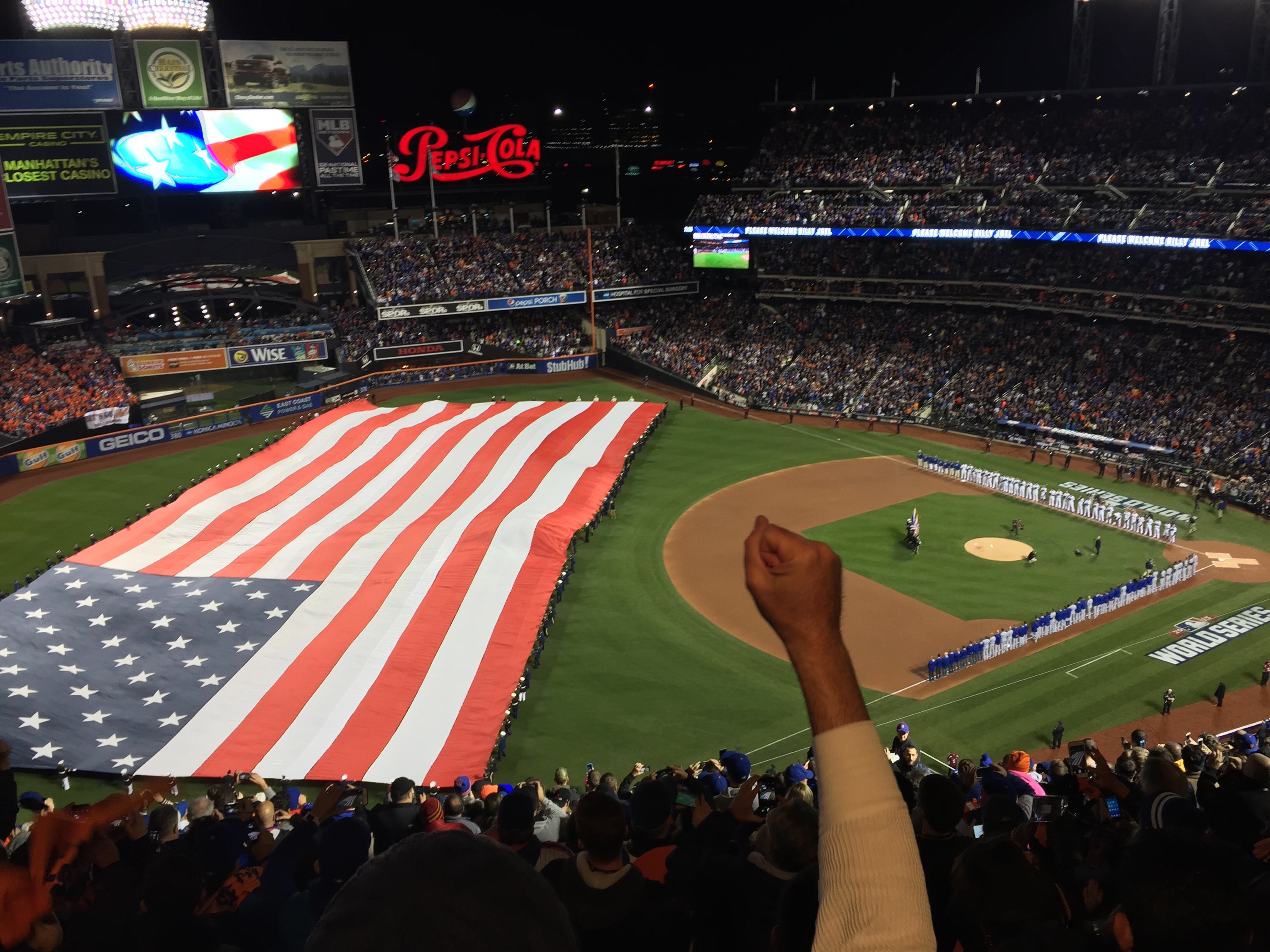 Friday night it finally happened. We made sure to commemorate the moment:
Note, I thought it was great my Dad and brother wore the hats I had picked up for them a while ago. I was wearing the same All Star Game hat my brother got me. It is the same hat I wore the day my son was born. I wore the Lucas Duda jersey my son got me.
Rare is it that you wait for something so long, and it's even better than you imagined. There was an amazing energy in Citi Field that night. The place exploded when David Wright hit that homerun:
The three of us shared an embrace just celebrating something we thought we would never see (no, I don't mean a Wright playoff homerun). We were high fiving strangers. It was pure joy. The place exploded again with the Curtis Granderson homerun:
When Wright broke the game open with a single in the sixth . . .
. . . it just became a surreal experience. I mean I was standing there doing the eighth inning "Piano Man" sing-a-long with Billy Joel:
Are you kidding me? I was there for Pratt's All Folks and the Grand Slam Single games. I was there with my Dad and brother. This game meant much more than those. This was the World Series. THE METS WON A WORLD SERIES GAME WE ATTENDED!
After the last out, everybody was screaming and yelling. We just gave each other a big hug. We were in disbelief that we were even there. We were convinced the Mets were going to win the World Series. We stuck around a bit longer singing along to "Back in the New York Groove" before leaving. It was then time for one last picture: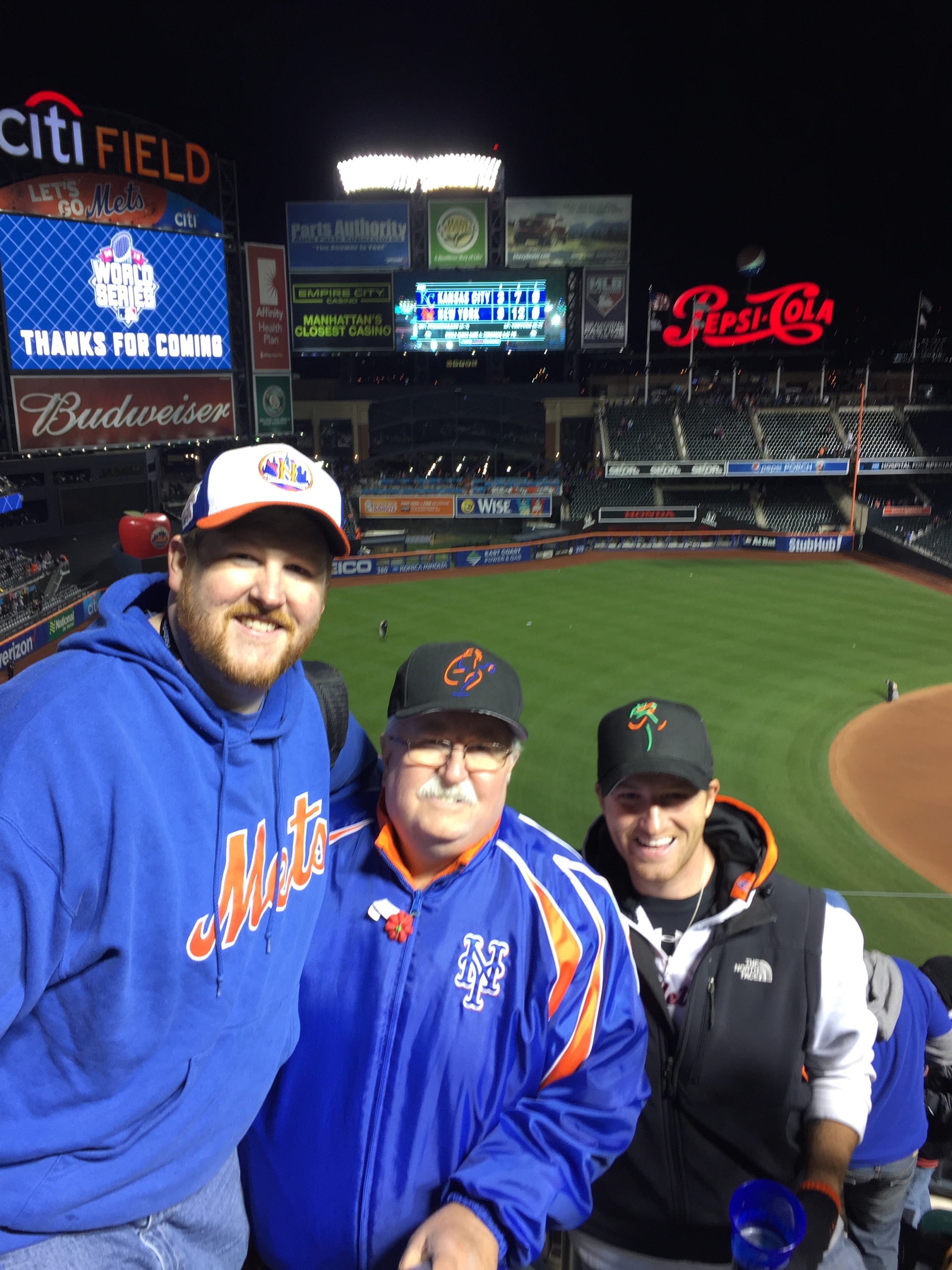 We decided to take the left field ramps out of the ballpark. It was fitting that we took the ramps like we had so many times at Shea. We said our goodbyes and headed home. It won't be the last game we go to together. I pray it won't be the last World Series game.
On the way to my car, I broke my rule. I bought a World Series hat and fleece. I have 1999, 2000, and 2006 sweatshirts and hats that'll never get worn again. I'll wear these again. I will forever want to remember this moment.
So thank you to the Mets for allowing this to happen. Thank you to my Dad for making me a Mets fan. Thank you to my Dad for taking my brother and I to all those Mets games over the years. I still can't believe the three of us got to be there on Friday night.
The Mets may have lost the World Series, but they won the game we attended. Losing the World Series will always hurt, but at least I got this moment 32 years in the making. It was amazin'.