Thor Needs to Bring the Heat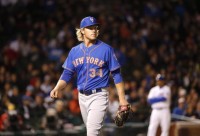 At the game yesterday, it was cold and windy. It's not surprising after all. It is Flushing in October. Tonight, it's supposed to be colder. While I was running errands, it was even snowing today.
This has some effects on the game:
Batters strike out more frequently;
Pitchers have less control; and
The balls carry less.
With less control, a pitcher may want to rely on his fastball more because that is the easiest pitch to locate. That's where the Mets starting Noah Syndergaard tonight is an advantage.
Thor set a record this year for highest fastball velocity at 97.1 MPH. With this fastball (and secondary pitches), he struck out 10 batters per nine innings. During the postseason so far, his velocity has increased to 98.7 MPH. He's striking out 13.5 batters per nine innings in the postseason.
As for the Cubs, they can't hit the fastball . . . at least not one thrown as fast as Thor's. The Cubs ranked 27th in the majors in batting average against pitches thrown 95 MPH and above. In addition, the Cubs struck out more than any other team in baseball; 127 times more actually. They struck out 10 times last night. If Thor brings his record setting heat tonight, the Cubs will be in line for another double digit strikeout night.
On this cold, cold night, the only heat will come from the right arm of Noah Syndergaard. If he brings the heat, we will see more of Pedro Martinez cheering:
THOOOOOR!!!!!!!! https://t.co/LbvTG7m7ia

— Metstradamus (@Metstradamus) October 18, 2015
We will be too.