Dodgers & Mets All Stars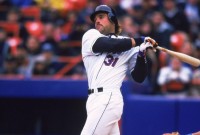 Whether people in Los Angeles know it, these two franchises will forever be linked. As many of you younger Mets fans (I can still call myself that, right?), many of our fathers grew up as a Brooklyn Dodger fan. They became Mets fans because the Dodgers left town.
The Mets came into existence as a result of the Dodgers moving from Brooklyn. The Mets owners won't quite let the Dodgers go. The teams have also shared stars.
From Gil Hodges to Mike Piazza, former Dodger stars have found their way to the Mets. These Dodger stars have been important parts of Mets postseason runs:
You know what's insane about that play? You know other than it happened. Former Dodger Shawn Green relayed the ball to former Dodger Jose Valentin, who threw the ball to former Dodger Paul Lo Duca. The first runner tagged out was former Met Jeff Kent. It seems that J.D. Drew wasn't supposed to be part of this play at all.
In any event, rather than go on about how much I hate the Dodgers (don't worry, that's coming tomorrow) I thought it would be fun to name the best players who have played for the Mets and Dodgers.
Some ground rules. I want someone who played well with the Mets and Dodgers. Using a Giants example, I'm not picking Willie Mays for CF even though he could be the greatest CF in MLB history. I want someone like Piazza, who was great (or at least good) with both teams. So, here's my list:
P – Bobby Ojeda
C – Mike Piazza
1B – Eddie Murray
2B – Jeff Kent
3B – Todd Zeile
SS – Jose Vizcaino
LF – Danny Heep
CF – Brett Butler
RF – Darryl Strawberry
Honestly, I thought this team would be better. The main problem was the derth of left fielders. Another problem was someone like Zeile. He played 3B for the Dodgers, but he mostly played 1B for the Mets. As you can tell, I leaned towards the player who was better as a Mets. If there are any suggestions, I'll be happy to update this list.
As we know, the Dodgers and Mets have a complicated history. The next chapter begins tomorrow night. Lets Go Mets!