This is What it's All About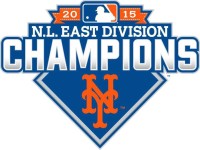 When the Mets clinched today, the person I wanted at my side to celebrate was my son. He means more to me than anything. He must've known it was a big game because even though I can never get him in a hat, he wore one today:

After celebrating with this little guy, I then talked to my Dad, who I knew was dying to talk to the two of us. Through the magic of FaceTime, we could celebrate together. It was great to see the Mets players do the same:
— SNY (@SNYtv) September 26, 2015
— SNY (@SNYtv) September 26, 2015
It was especially heartwarming to see Daniel Murphy out there because of all he went through when his child was first born. He was also the guy that gave my son a ball before he was born.
It was also great to see Jon Niese out there with his child as my post about him was the first time my blog was noticed. I smiled when I was on FaceTime with my Dad because I remembered this was the same technology that allowed Niese to let his child being born. My grin was a little wider when I remembered the Mets are in the playoffs. It gets bigger each time I think of it.
However, that wasn't the highlight of my day. The highlight was when my son counted to 10 with me for the first time.
It's funny. Never before did I think the Mets in the playoffs would be a distant second to me. I'm not any less of a fan than I used to be. I'm probably a bigger fan.
The difference between now and then is I'm a Mets Daddy.