The Harvey/Wright Narrative is Wrong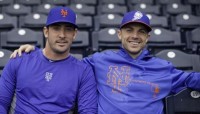 The narrative after last night's game was Matt Harvey was soft for following doctor's advice. The other part of the narrative was David Wright is the anti-Harvey because he's playing through a back injury.
Let's start with Wright. He didn't begin his rehab until doctors signed off on it. Furthermore, spinal stenosis is a degenerative and permanent condition. The Mets are making accommodations for Wright's injury by limiting him to playing only four games in a row. People call Wright tough, but they fail to realize he only had two options: play or retire and forfeit approximately $87 million dollars.
Harvey, who is coming back from major Tommy John surgery, is labeled as soft. This ignores everything that has happened. He was told he shouldn't go past 180 innings. The team wanted to limit him to less than 180 innings so he could pitch in the playoffs. The team abandoned the six man rotation on three different occasions due to the sixth starter's injury or ineffectiveness. However, the Mets made sure to publicize Harvey's disdain for the six man rotation to make it seem like the six man rotation was abandoned on his orders.
Harvey suffered from arm fatigue and decreased velocity (major warning signs). He left a game with severe dehydration. He pitched through all of this in his first year after Tommy John surgery, and he's not tough? That's insane. He doesn't want to win? Then why is he working to come up with a modified schedule so he can pitch unfettered in the playoffs?
That doesn't stop Mets fans from blowing up on Harvey went he only goes five innings against the Yankees, but there was no peep when Wright sat against the Marlins in a loss two weeks ago. Seriously, in a game the Mets lost on a walk off hit, Wright didn't so much as pinch hit. Why the double standard?
I don't know why the Mets can make accommodations for Wright and not Harvey. I don't know why people want Harvey to risk his career pitching in meaningless September games when he's clearly gearing up for a postseason run. I don't know why no one respects the fact that he's making under a million, and the Mets have made no financial incentives to ignore his doctor's advice and pitch. Wright has $87 million reasons to play. Harvey had hundreds of millions reasons not to pitch, and yet, he's still out there pitching.
Overall, Harvey and Wright are tough and want to win. That should be the narrative. Any other narrative purposefully ignores the facts.