Thank You Omar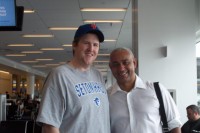 Look, this is Sandy Alderson's team. He decided to keep the players he kept and trade the players he traded. He pulled off the trades and signed the free agents. However, he was able to do a lot of what he did because he was left with good players after Omar Minaya was terminated.
Here are the players in the 40 man roster who have a link to Omar Minaya (asterisked players are players obtained with players combined by Minaya and Alderson):
Jerry Blevins – obtained for 2010 draft pick Matt den Dekker.
Eric Campbell – 2008 draft pick.
Darrell Ceciliani – 2009 draft pick.
Travis d'Arnaud – part of the R.A. Dickey trade. Dickey was a free agent signing. Josh Thole was a 2005 draft pick. Mike Nickeas was initially obtained by trade in 2006.
Jacob deGrom – 2010 draft pick.
Lucas Duda – 2007 draft pick.
Jeurys Familia – 2007 amateur free agent signing.
Wilmer Flores – 2007 amateur free agent signing.
Erik Goeddel – 2010 draft pick.
Matt Harvey – 2010 draft pick
Dilson Herrera* – part of Marlon Byrd/John Buck trade. Buck was part of the Dickey trade (see d'Arnaud).
Juan Lagares – 2006 amateur free agent signing.
Steven Matz – 2009 draft pick.
Jenrry Mejia – 2007 amateur free agent signing.
Akeel Morris -2010 draft pick.
Daniel Murphy – 2006 draft pick.
Bobby Parnell – 2005 draft pick.
Addison Reed* – obtained in exchange for Matt Koch and Miller Diaz (signed by Mets in 2009).
Hansel Robles – 2008 amateur free agent.
Noah Syndergaard – part of Dickey trade (see d'Arnaud).
Ruben Tejada – 2006 amateur free agent.
Again, these players are in the roster because Alderson kept them. The decision of who to keep and trade is important. That is what makes them Alderson's players and team. Additionally, while It was Alderson that hired Terry Collins, it was Minaya who brought him into the Mets organization.
However, it is important to truly acknowledge Minaya's role, especially when he has been unfairlyand wrongly marginalized.
You see I was on the same Jet Blue flight as Omar Minaya. The photo with this post was Minaya and me in the terminal before the flight. He was accessible to Mets fans who wanted to shake his hand and take a picture. No one, and I mean no one, had the "courage" to mock him on the flight.
Additionally, this should dispel the notion that Minaya left the Mets with a depleted farm system. On the contrary, he built a strong farm system that helped make up this team. Minaya had his faults, and he probably deserved to be fired when he was. That doesn't mean we should ignore his work.
It doesn't mean that we shouldn't extend our gratitude to him for what he left behind.