Mets Win Even in Previews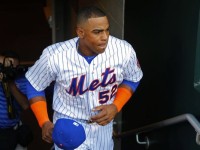 One of the things I like to do is to go see a Broadway show during previews and right before Opening Night. By that time, many of the kinks are worked out, but the actors are still trying things to see if it works. Even better, the tickets are at a discount.
Tonight was preview night at Citi Field. The Mets had BOGO tickets. Terry Collins tried some stuff out like batting Lucas Duda seventh against a righty. He started Michael Cuddyer in RF against the lefty over Curtis Granderson. He only let Logan Verrett go five innings in a game tied at one despite throwing under 70 pitches.
Collins would bring in Sean Gilmartin in the sixth. Was this to see both potential long men, or was this a preview for a future Matt Harvey rumored half start. Gilmartin would show his rust giving up two runs to the Marlins. However, like the Broadway previews, the stars brought it and brought down the house.
Yoenis Cespedes opened the scoring in the third with a bomb to left field. After the Mets fell behind, Travis d'Arnaud hit a game tying two run homer. Finally, the biggest star of them all, David Wright, hit the go-ahead ground rule double scoring the pinch running Eric Young, Jr. (who also stole a base). Jeurys Familia came on in the ninth and saved the 4-3 win.
We can expect a lot more of this over the next month. These are the types of things you can and should do with a large division lead in September. Because the Mets are so good, they're going to win a lot of those games.
I can't wait for when this show makes its October debut.