I Don't Know What to Make of Collins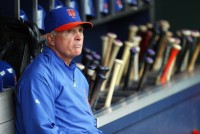 Terry Collins came into this season as a lame duck manager. That can be poison going into a year. A lot of that was alleviated by the Mets 11game winning streak in April. Then the injuries came.
On April 14th, David Wright went on the DL with a hamstring, but we would later learn it could be much worse. On April 19th, Travis d'Arnaud went to the DL with a right hand fracture. He would come off the DL on June 10th, and he would return to the DL on June 23rd. Jerry Blevins went on the DL with a broken forearm on the same day as d'Arnaud's first DL stint. On June 5th, Daniel Murphy went on the DL with a left quad injury.
These injuries were on top of season ending injuries to Zack Wheeler and Josh Edgin. The Mets lost Jenrry Mejia first two injury on Opening Day and then to a steroids suspension. Rafael Montero was first an option in the bullpen and then the rotation. He went on the DL with a shoulder injury and would never pitch again. Dillon Gee was in and out of the rotation, and he went on the DL. Eventually, he went into the doghouse.
There was also the issues of ineffectiveness. Lucas Duda started out hot, and then got really, really cold. He had trouble carrying the offense. It's no wonder his back went out. Kirk Nieuwenhuis was terrible, and he was traded to the Angels. When Nieuwenhuis flopped with the Angels, the Mets and their dreadful offense took him back. Of course, Michael Cuddyer had a typical first year with the Mets.
Through all of this, Collins kept it together. It was a miracle. The Mets should not have been in position to make trades. They were in a small part because the Nationals didn't run away with it. A larger part was Collins holding it together. Then when he finally had a real MLB roster, his abilities as a tactician into question.
He started making questionable choices, and he cost his team some games. Then the season defining series against the Nationals. Collins said he was treating it like a playoff series. He made a number of moves. He was brilliant. However, it leaves me to question which is the true Terry Collins. Is he the man that is better at getting the most out of a team? Is he a guy that can jeopardize a game with questionable moves? Is he the guy that can pull it together to make all the right moves when a series is in the line?
Is he all these things? I don't know. Part of the reason why is this is Collins first real pennant race as the team to beat. Another reason is he's never had a team this good. Finally, he's never been in the playoffs. He's going to get his chance now.
It's funny that with no new contract, this could be Collins first and last chance at a World Series. I hope he gets it. Not just because I'm a Mets fan, but because he's a good man. He's spent his life in baseball, and he has earned his chance.
I just hope when the time comes we see the Collins that managed against the Nationals.
NOTE: hat tip to @koosman2pointOh for his suggestion on this post.