Do You Still Celebrate Harvey Day?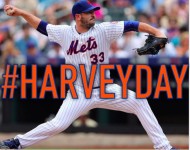 It's been an eventful week for Matt Harvey, the Mets, and Mets fans. Who are we kidding? It's been an eventful two years. All season long, Mets fans have celebrated Harvey starts as "Happy Harvey Day!"
I get the impression Mets fans aren't celebrating Harvey Day anymore. They're willing to overlook his 12-7 record with a 2.60 ERA and a 1.01 WHIP. They're overlooking how they pined for him all of 2014 because he was the key to being a team that could be a World Series contender. They're overlooking the fact that Harvey has so far delivered.
I understand the anger. I understand the frustration. I can even understand why people presume that they can tell someone to tell someone to do with their health and career. What I can't understand is forgetting all that Harvey has done for the Mets. What I can't understand is the Mets fans double standards.
Mets fans actually booed a looming free agent superstar in Mike Piazza. For comparison purposes, it would be like the Mets fans booing Yoenis Cespedes now, and Cespedes is nowhere near the player Piazza is. I'm sure the Mets fans will elect to boo Harvey as well. I guess that puts Harvey in good company.
Also, the Mets have botched the handling of Harvey's inning limits, whether or not the 180 was a strict limit. Seriously, they've aborted the six man rotation on three different occasions. They've refused to bring back Dillon Gee. They never called anyone else up to take Steven Matz's place in the six man rotation when he was injured.
The Mets made their choice. They let Harvey, and the other pitchers, rack up innings so they had a better chance of winning games in the short term. They were hoping they could bully their pitchers to ignore doctor's, and yes, agent's advice, to go beyond their innings limits. We're going to boo Harvey for this?
I'm not. I'm going to cheer Harvey today (from my living room). I'll cheer him in this and all other starts he makes in 2015 and beyond. I hope you will as well.