Mets 1-2 Punch Their Way to a Win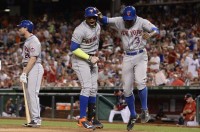 This was the Curtis Granderson and Yoenis Cespedes Show. With the offense scuffling tonight, they accounted for four of the Mets five runs. It showed why Cespedes receives the MVP talk while Granderson is truly the Mets' MVP.
In the third, Granderson walked and scored on a Cespedes double. In the fifth, Granderson scored on a balk after being moved to second on a Cespedes single and Daniel Murphy ground out (he was absolutely robbed of an RBI double by Freddie Freeman. He scored for the last time on a laser homerun by Cespedes in the ninth.
Even though Steven Matz looked to be fitting himself and an inconsistent umpire, he only allowed one earned run in five innings. While Matz may not have been great, it was impressive he was able to get though five innings.
Erik Goeddel pitched a 1-2-3 sixth despite letting up two deep fly balls. Addison Reed pitched a 1-2-3 seventh, further showing he's the seventh inning guy. Tyler Clippard did his usual good work in the eighth. Jeurys Familia recorded his 40th save securing the 5-1 win.
The only concern from the game was Murphy's leg. He probably would've been safe on Freeman's play if he was able to run full speed. As Keith Hernandez pointed out, Murphy seemed to be slow and since after his seventh inning single. Terry Collins may need to find him a couple of more days.
Overall, it was an ugly win, but a win nevertheless. It was good enough to increase the lead to 8.5 games.
Before the game, the Braves had a nice ceremony commemorating 9/11. They even showed the Mike Piazza homerun, which happened against them. They also wore the First Responder caps in batting practice, which they will auction off for charity. While I'll criticize the Mets players and MLB, I'll compliment the Braves here.
The Braves also had a wonderful rendition of "God Bless America." They represented baseball and the country well.