Terry Collins: Manager of the Year Candidate?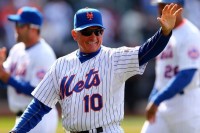 I know this is premature, and no, I'm not jinxing anything. I just believe it is time we take stock in how Terry Collins has performed, especially in light of the revelation he was almost fired last year. Obviously, I thought about this today as this is the first time I woke up with the Mets in first place in August in eight years.
First, let's start with the pure subjective (it is a subjective award). The Mets were not ideally put in a situation to succeed to start the year. He had the news about his speculated firing. He was handed a miscast SS in Wilmer Flores. Zack Wheeler has not thrown a pitch this year and had Tommy John surgery. There was a weak bench. He lost his closer on Opening Day to injury and a PED suspension.
There was the David Wright injury. The team was built without depth and the Mets have effectively gone without their best player for the whole year. There was the Michael Cuddyer ineffectiveness and injury. There was the stop and start if the six man rotation on two separate occasions. There was a historically inept offense and bench. There was a second Mejia PED suspension.
Through all of this, he kept the Mets close enough to permit Sandy Alderson to add Juan Uribe, Kelly Johnson, Tyler Clippard, and Yoenis Cespedes. Everyone would've understood if the Mets fell apart. Sure, they would've been angry, but that anger would've been directed at the front office, not Collins.
Onto more "concrete" analysis, the Mets' Pythagorean current expected win-loss record is 51-53. They're outperforming their expected record by four games. There are some who believe this is more than luck and could be the result of managerial experience and getting the right people in the lineup. We know about the former, but it is questionable how much Collins could've done the latter with his old collection of sub-Mendoza line players. Those four games right now are enough for a virtual tie for first place.
I still think he's a poor in game manager. Plus, right now, he's playing his OFers out of position willingly. However, there's no denying that he somehow kept this thing together. When the season was on the brink right before the All Star Break, the Mets had a 4-2 trip against the Dodgers and Giants. I think he forced the Mets to get players with how he got this team to keep playing and win enough games.
Collins deserves recognition now. He was one of two managers the disfunctional Angels forced him into a resignation. He was the Mets' minor league coordinator when some of these players were working their way through the system. He hasn't complained with the rosters he's been given. Overall, he's been a good man in a tough job.
His competition right now seems to be Matt Matheny, Clint Hurdle, his former bench coach Joe Maddon, Don Mattingly, and Bruce Bochy. Given the circumstances in which Collins managed, he's done a much better job than the aforementioned managers. If the Mets make the playoffs, he should be a lock for the award.