Outta Hand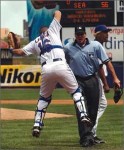 Now, we've seen these Mets for the past 50 plus seasons. They face a spot starter, emergency starter, or rookie pitcher, and they struggle at the plate. Tonight, it was Brad Hand.
Personally, I knew the Mets were in for a tough night when I saw Angel Hernandez on the mound. For the uninitiated, the Mets have a history with him. This is mostly because he's a bad umpire.
Luckily, Jon Niese pitched very well. He kept this team in the game while they struggled against the 1-2, 5.12 ERA Hand. In fact, the Mets didn't score until Adam Conley came in the game. It took a Wilmer Flores [standing ovation] double and nice slide (good job by Niese directing him where to slide) to tie the game on the Ruben Tejada single.
For the second time this year, Eric Campbell bailed out Terry Collins for some questionable moves. Collins had Flores bunt with two on and no out in the eighth. Flores popped out [polite applause], and Tejada couldn't deliver. Campbell then got the go-ahead bloop hit, right over the outstretched hands of Hechavarria, scoring Lucas Duda. Juan Lagares gave some breathing room with a two run RBI triple. The rally ended with a Curtis Granderson RBI double, which stretched the lead to 5-1.
Tyler Clippard and Jeurys Familia had a bumpy eighth and ninth respectively. However, they didn't give up a run.
Despite winning this game, Collins' decision making was very questionable. Look, I know I've been the one pounding the drum that Terry Collins has been using the platoon system; however, you cannot use it to sit Michael Conforto. When he was called up, the Mets took on the responsibility of playing him everyday. If he's not going to play everyday, they should bring up Darrell Ceciliani.
No matter what the Nationals do tonight (they're currently tied at three in the eighth), the Mets will remain in sole possession of first place. Just don't tell Bryce Harper.