On the Wright Track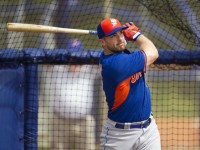 Today, David Wright will begin playing rehab games in St. Lucie. This is a good day to be a Mets fan, and we can start the countdown until his arrival back with the team. So when will that be?
A few weeks ago, I tried to peg when Wright would return to the Mets. Overall, I noted that David Wright would get a maximum of 20 days on rehab games, under MLB rules, which would mean his return to the team would be Sunday, August 30th, at the latest. Right now, the Mets say they are looking for Wright to play in approximately 10 minor league games, barring any setbacks. Hopefully, the possibility of a setback has been reduced with him seemingly practicing hard for the past five days.
If the Mets do indeed allow Wright the minimum of 10 games, his rehab will be over on August 19th, presuming he plays in 10 consecutive games. If so, his first game back with the Mets will be on Friday, August 21st in Colorado. Personally, I think this is a bit optimistic. First of all, Wright has essentially not played for the entire season, and they are only going to give him 10 games? Furthermore, Terry Collins has said he only wants to play Wright four games in a row when he comes back, but they are going to let him play 10 straight games on a rehab assignment? Plus, if he's feeling good, they're going to effectively fly him cross-country with a bad back?
With that said, I think the earliest return we should see David Wright is Monday, August 24th in Philadelphia. It's a much shorter flight, and the travel from there to New York is a lot easier than Wright going from St. Lucie to Denver to Philadelphia to New York. Either way, I think it is safe to say Wright's first game back at Citi Field will be on Friday, August 28th against the Red Sox. If I'm "wright" the Mets need to get a new design for "Free Shirt Friday."