Biggest Trade Deadline Acquistion: Mets Fans are Back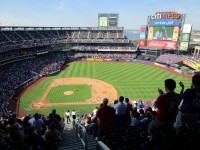 Say what you want, but I'm the biggest Mets fan there is. Some may have been fans longer. Some may have gone to more games. Some may spend more money on paraphernalia, but there is no bigger Mets fan than me.
You know what's great though? I just wrote that, and there are people legitimately angry at my statement. There are about a million other Mets fans who legitimately feel the same way. Despite what a garbage analysis says, Mets fans are incredible.
Just look at the way we treated Wilmer Flores after the Carlos Gomez trade disintegrated. We gave Mike Piazza a curtain call when he was a visiting player. The fans gave Carlos Beltran a standing ovation at the 2013 AllStar Game, and he was wearing a Cardinals uniform. If you don't think the Mets' fans register with the players, you're wrong.
Back in the old message board days, Todd Pratt would interact with Mets fans under the user name "Tank." If you're a Mets fan on Twitter, Paul Lo Duca will follow you. Mike Piazza himself acknowledged the fans yesterday during the Mets game:
Excited and hope @Mets finish strong, like the energy. Do it for the Fans! Play smart, bring it home!

— Mike Piazza (@mikepiazza31) August 2, 2015
Last night, the fans were great. You could feel the excitement through the television. It was apparent to everyone. Curt Schilling, who pitched in the NL East when the Mets were very good and very bad, summed it up best when he said, "[s]peaking from experience, this is a not a fan base you want to wake up."
That's the thing with those of us who miss Shea. There were memories there. The baseball at Citi Field has not been good. Aside from the Johan Santana no-hitter, there have been no signature moments. But Shea? That's where we saw our first game. That's where 1969 and 1986 happened. That's where Piazza seemingly healed New York for one night:
Look at those fans. The whole country was hurting. At that time, we questioned if it was too soon to come back to New York. We questioned if it would be safe to play a game in New York. They played, and the fans came. They roared as Mike Piazza may have hit the most important homerun ever hit.
Guess what? These Mets fans are back. Like me, we're bringing our kids with us. I know my son has been getting swept up in the excitement of these games. When I ask him if he wants to watch, he now runs so we can watch it together. He cheers the homeruns. I could not get him to sleep after the three third inning homerun innings last night. He was that excited.
I'm more excited. I'm dreaming of an NL East title. I'm dreaming of a pennant. I'm dreaming of being able to see a World Series game with my Dad and son. That would be a dream come true.
This season and team has momentum. I know Mets fans want to and will ride it into October. David Wright, and to a lesser extent Daniel Murphy, knows how Mets fans can get. I'm excited to show how great we are to a whole new generation of Mets players and fans. If Matt Harvey thought the fans were good during his breakout year, he's seen nothing yet.
I can't wait to see the stands as we begin to get some signature moments at Citi Field. We can finally make this place feel like home. It's going to be a fun ride.
Lets Go Mets!